Large Animal CE Courses
Select from a variety of relevant topics with downloadable notes for cattle, sheep, goats, llamas, alpacas, camels, pigs, poultry and related species. Tailor a program of topics that meets your needs and only pay for what you use. This is CE on your terms, in your time. Each session provides 1 hour of RACE-approved continuing education for veterinarians and veterinary technicians; don't forget to take the 5 question quiz after viewing the module to receive credit. We look forward to putting information in your hands that you can use tomorrow.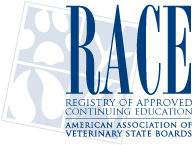 Course meets the requirements for one (1) hour of continuing education credit in jurisdictions which recognize AAVSB's RACE approval; however participants should be aware that some boards have limitations on the number of hours accepted in certain categories and/or restrictions on certain methods of delivery of continuing education.